Project Display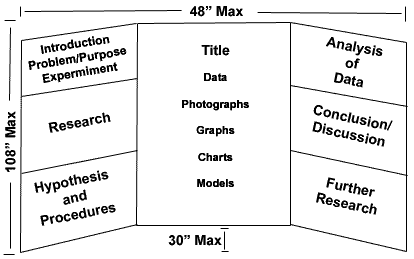 Project display dimensions: Your project should not exceed 48" wide, 108" high, and 30' deep (including any support). Any projects larger in size will be disqualified and not judged.


Display must stand by its self. Poster board should be reinforced.


Display objects: Your display objects should be mounted on a wooden base or securely sealed in a tamper-proof plastic container. Any objects deemed harmful will be removed so please do not include them (use a picture of them if you need). Please display any items you value or could be broken in a way that does not invite careless handling.


Please put your name, school, and grade on the back of the project, (not the front) or your project will not be judged.


Try to display your project in a way that tells the story of your science investigation clearly and understandably. Many people will be looking at your project and they should be able to see your thought process throughout the whole investigation.


How you applied the scientific method should also be understandable by looking at your project display.


The use of subtitles is good.
Tri-City College Prep High School
5522 Side Road Prescott, Arizona 86301
Phone: 928-777-0403 Fax: 928-777-0402