Due to COVID-19 we are canceling the Northern Regional Science Fair for this year.
Northern Regional Science/Engineering Fair
Grades K-8
Hosted by Tri-City College Prep High School
Last updated 03/15/2020
The Science Project Project Display Local Rules Science Fair Results
Tri-City College Prep will be hosting NRSEF for grades K-8 which is located at 5522 Side Road in Prescott (Exit: Granite Dells Parkway) View in Google Maps.
Rules and Regulations - Many of our rules and guidelines will follow the Intel Science and Engineering Fair (ISEF) rules and guidelines. Our local rules can be found in our project display section, entry form, and on our rules section. These lists of rules are not an exhaustive list of rules. Please use good judgment and contact us if you have further questions.
Here are some links to the official ISEF web site:
Official Intel ISEF Science & Engineering Fair Web Site
Please use the categories listed on our entry form.
If you have specific questions please email Dr. Mary Ellen Halvorson: mehalvorson@tricityprep.org
Important Dates:
March 23, 2020 (midnight) School's list of students due via email or fax
March 26, 2020 (4:30 - 6:30 PM) - Project Set-up
March 27, 2020 (8:00 AM - noon) Judging and closed to public
March 27, 2020 (1:00 PM - 4:00 PM) open for public viewing
March 27, 2020 (4:00 PM - 4:30 PM) project take down, projects left will be thrown away
March 27, 2020 (5:00 PM) Awards Ceremony in TCP Auditorium
Download the Science & Engineering Fair entry form:
K-8ScienceFairEntryForm.pdf
You can download Acrobat Reader here.
The Science Project
Why Experiment? - The science fair project will help you understand how scientists solve problems. For a scientist investigation and discovery are the most import part of their job. The only way for a scientist to investigate and discover something is to experiment and observe the outcomes.
Why Report? - Reporting your findings is the only way to teach others about what you have discovered. Reports can be in many forms written paper reports, posters, pictures, models, and even show-and-tell at school.
What topics can you use? - You can use almost any topic as long as it is a natural phenomenon and can be safely investigated. Basically if you can ask a question about something you should be able to investigate it. When picking a topic pick something that interests you. You will use the scientific method to investigate your topic.
The Scientific Method
Simplified 5 Step version
Problem/Purpose - What is the scientific question you are trying to answer?
Hypothesis - Make an educated prediction regarding the outcome of your experiment.
Procedure/Research - Explain how you will conduct your experiment to test your hypothesis, what materials you will use as well as any information you gathered from the library, teachers, or other resources.
Experiment/Analysis - Conduct your experiment and explain any findings or observations you make.
Conclusion - This is the answer to your problem/purpose and proof or disproof of your hypothesis.
The full scientific method explained in more detail may be found at ISEF site located here.
Local Judging Rubric
Creative Ability: thought, study, planning, originality 30 pts.
Scientific Thought: purpose, accurate & valid experiments, scientific method 30 pts.
Skill: craftsmanship, accuracy, verifiable facts, research component 15 pts.
Clarity: neat, attractive, understandable, logical sequence, organization 15 pts.
Project Display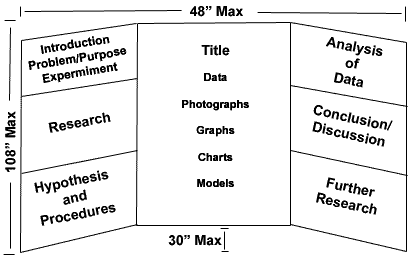 Project display dimensions: Your project should not exceed 48" wide, 108" high, and 30' deep (including any support). Any projects larger in size will be disqualified and not judged.
Display must stand by its self. Poster board should be reinforced.
Display objects: Your display objects should be mounted on a wooden base or securely sealed in a tamper-proof plastic container.
Any objects deemed harmful will be removed so please do not include them (use a picture of them if you need).
Please display any items you value or could be broken in a way that does not invite careless handling.
Please put your name, school, and grade on the back of the project, (not the front) or your project will not be judged.
Try to display your project in a way that tells the story of your science investigation clearly and understandably. Many people will be looking at your project and they should be able to see your thought process throughout the whole investigation.
How you applied the scientific method should also be understandable by looking at your project display.
The use of subtitles is good.
Local Science Fair Rules
The following guidelines can be used to identify acceptable projects for entry in the Northern Arizona Regional K-8 Science Fair 2009. Judges reserve the right to disqualify any project that is potentially dangerous, plagiarized, or unethical in any nature. There are many internet sites that will provide detailed guidelines and rules for science fair projects. For answers to specific questions about the eligibility of a project, contact Tri-city College Prep High School (928) 777-0403 or email mehalvorson@tricityprep.org.
We will not accept projects from any student who is not currently in K-8 grade levels.
Document and give credit to all sources. This includes printed material, computer programs, internet sources, and interviews.
Experiments using human subjects must be ethical, safe and must have written consent of the person/s involved. No endangerment will be permitted.
Experiments using animal subjects must be ethical and safe and cannot illegally use or involve endangered species. Any animal tissue used must come from a recognized biological supplier. No animal sacrifice or endangerment will be permitted.
Project displays may not include any of the following:

Living or dead animals or animal parts
Chemicals that are: carcinogenic, toxic, poisonous, highly acidic, explosive, or flammable
Items that have strong odors
Pharmaceutical or illegal substances
Any substance not allowed on a school campus including weapons and Cigarettes.
Hazardous substances
Bacterial or viral components
Exposed electrical wiring
Wet cells containing acid
X-ray, laser pointers or microwaves

Photographic documentation of experiments is highly recommended.
Projects may not exceed 48" in width, 108" in height and 30" in depth when set up for display.
This is not an exhaustive list of rules. Please use good judgment and contact us if you have further questions.